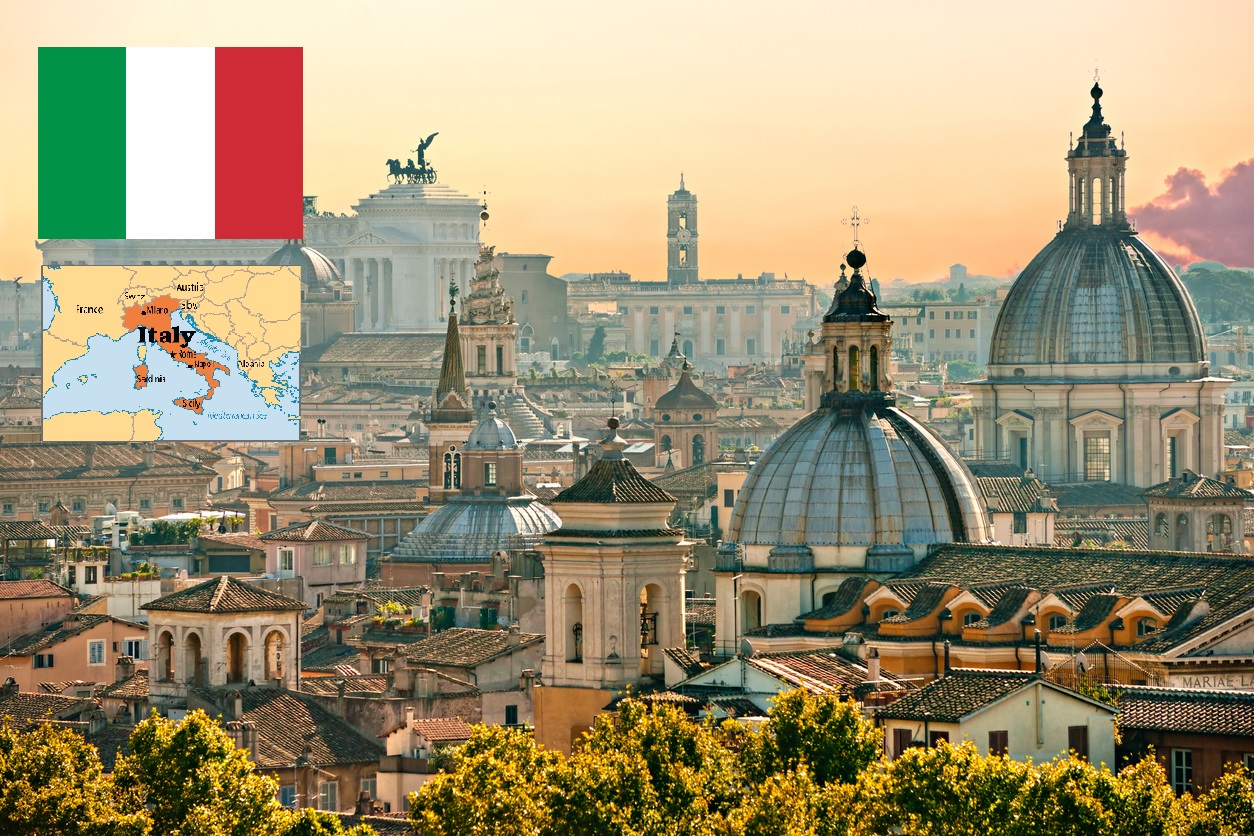 Italy is part of the G20 countries that are a priority to open till the GA2020. Although Italy is considered a Christian country it is mainly composed of nominal Christians and is in desperate need of evangelism, gospel teaching and renewal.
Italy is located in south-central Europe and is mainly composed of a peninsula that dominates the central Mediterranean Sea and two large islands of Sardinia and Sicily. It has a population of 62.4 million people which makes it the third most populous country in the European Union sharing land borders with France, Switzerland, Austria, and Slovenia.
Not counting illegal immigrants, Italy has around 5.05 million foreign residents, making up 8.3% of the total population. Currently, about one million Romanian citizens are officially registered as living in Italy, representing thus the most important individual country of origin, followed by Albanians and Moroccans with about 500,000 people each.
Italy is home to some of the world's most famous historical treasures including the Colosseum, the Leaning Tower of Pisa, and the Roman Forum. Central to the Renaissance, Italy is the birthplace of Leonardo da Vinci, Michelangelo, and Raphael. This nation has had an immeasurable and global impact on art, music, and literature, and is often known for its architecture, fashion, and cuisine. Classical villas, the Mediterranean coast, and the northern Alps are just glimpses of the breathtaking beauty that draws millions of tourists every year.
Though Italy has the seventh-largest economy in the world, it is struggling to grow. Once the seat of the Roman Empire, one of history's greatest superpowers, today Italy faces many social and economic challenges. Roughly 39% of youth are unemployed, causing many to leave the country in search of greater opportunities.
This nation has a rich history of faith. The Book of Romans was written to the Church in Rome, which was the center of intense persecution for the early Church. Deeply rooted in Catholicism, it is home to the Vatican – the seat of the Catholic Church. Today, about 82% of the population claims Christianity, most of them being Roman Catholic. Yet only 15% of Italian Catholics faithfully practice their faith, with the majority seeing it as part of their cultural identity more than as a personal belief. Only about 1% of Italians are Evangelical Christian. Secular materialism, Occultism, and Satanism are gaining influence across the nation. A better understanding of God's Word is needed in order to overcome the rampant spiritual indifference that now plagues this nation.
Prayer Topics:
Pray that a Cyber Church may be established and a team of leaders and missionaries be sent to acquire an Olivet Center and start a church.